A freezer is one of those importance home appliances that you will find useful in those hot summer months and in general preservation of your perishable food items. Freezing your food will save you money and time wasted in shopping for food every now and then. Unfortunately, a freezer may fail you in the time you need it most and when repair is something you can't handle. Such are the times when you need a freezer service technician to come to your aid. It's common for a freezer to run but not freeze food. This is a problem caused by a number of factors but can however be fixed by a professional.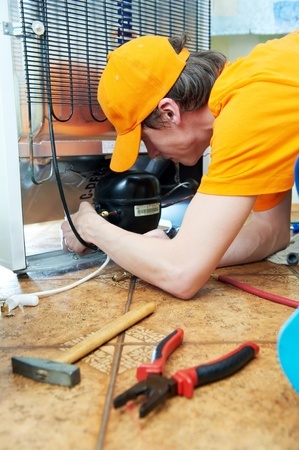 Some common freezer problems and their repair options are discussed below:
Dirty condenser or evaporator coils
If you hear the compressor motor running and your freezer is still not cooling at all, then there could be a problem with the evaporator or condenser coils. A refrigerator repairman can inspect the condenser models for problems. If your freezer model has its condenser coils located behind the unit, then it means they will be exposed to dirt. Dirty condenser coils are incapable of dispersing heat well and therefore affect your freezer's cooling capacity.
It's important to clean the condenser coils at least after every 6 to 12 months. Some freezer models have the condenser coils within the freezer. The evaporator coils for such models are therefore safe from dirt exposure and hence require no cleaning.
Faulty start relay
Another common problem that most homeowners have with their freezers is a problematic start relay. It's the start relay that provides power to the compressor. The compressor is located on the back of the unit near the bottom. If the start relay fails, the compressor will also not run. A freezer will not be able to cool if the compressor is not working properly. Contact your residential freezer technician for repair. To inspect the start relay, your repairman will disconnect the freezer from power and remove the start relay from the compressor. The technician will then use a multimeter to test the start relay for continuity. If the device lacks continuity after testing it between start and run terminals, then it needs to be replaced. A burnt start relay should also be replaced.
Identifying this problem and repairing it is not like the everyday DIY projects you do around your house. It is would be wise to call a professional and licensed fridge technician to handle the situation and service your freezer regularly.
Faulty evaporator fan motor
Yet another reason why your freezer is running but not freezing is a defective evaporator fan. The work of this freezer is to move air over the condenser coils and dissipate it throughout the unit. However, if the evaporator fan motor fails in its operation, the freezer will not cool. Freezer repair may be necessary to correct the problem. To check the evaporator fan motor, your freezer service technician will open the unit's door and manipulate the door switch. If the evaporator fan motor fails even with that activation, then it needs to be replaced. Note that the evaporator fan motor on most refrigerator models will not run when the door is left open.
A freezer is a worth household appliance that can be repaired if the problems above occur and last for a long time with proper maintenance.
Get Repair Service From Our Service Areas in Travis:
Lakeway, West Lake Hills, Brushy Creek, Rollingwood, Round Rock, Onion Creek, Hutto, Point Venture, Cedar Park, Volente, Rosewood, Webberville, Del Valle, Briarcliff, Pflugerville, Sunset Valley, Bee Cave, McNeil, Manchaca, Manor, The Hills, San Leanna, Creedmoor, Austin, Jonestown